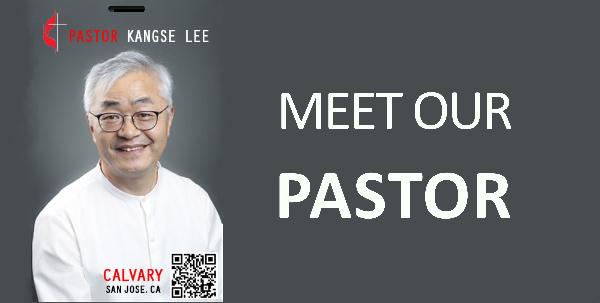 SENIOR PASTOR: Kangse Lee
​Kangse Lee grew up in the third generation of a Korean Methodist family. In 1990 he left Korea and came to America to "study overseas". During his school years, he experienced various denominations: University of Mary Hardin Baylor(BA in Religious Study, TX), McCormick Theological Seminary (MA of Theological Studies, Chicago), and Garrett Evangelical Theological Seminary (M.Div). And it was his final decision to discern his call to be a pastor within the Methodist tradition. As such, he began his full time ministry at Dakota UMC in the Northern Illinois Conference and in 2016 he began his pastorate here at Calvary UMC of San Jose, California.
Amongst his many passions for Calvary UMC is that Calvary be identified as a "Caring & Praying Church." He says, "Calvary may be known by many different descriptions. However, I want Calvary to be known as the church where people are truly living with 'Caring One Another' & 'More Prayer and More Power!'"
His wife, Maria is a great supporter for Kangse He said, "Maria is a constant reminder of God's grace and gratitude." While his favorite interest is riding his bike, kayaking, and fishing, he has recently begun a new hobby of "vegetable gardening in containers".

Calvary United Methodist Church of San Jose
729 Morse St., San Jose, CA 95126
Copyright &copy 2023 ChurchTrac Software, Inc.